St-Estephe is perhaps the most misunderstood of the Medoc's great wine appellations. For a start, there are only five classified growths, and none of them are  First Growth. Moreover, St-Estephe is typically accused of producing rustic and sometimes tough wines with an imposing tannic backbone – not an entirely undeserved criticism. The gravel banks which give the Haut-Medoc and its wines their character and quality begin to peter out at St-Estephe. It is the northernmost of the four famous appellations that are the heart of the Medoc – St-Julien, Margaux, Pauillac, and St-Estephe.
Yet St-Estephe does produce some of the most venerable clarets in Bordeaux – they require a bit of patience. Often tough and closed in their youth, superlative wines such as Montrose and Calon-Segur open up after about 10 years to wonderful complexity, filling your mouth with flavor. The best wines are perfumed, robust, and very long-lived. Today there are some 1,200 hectares under vine in St-Estephe, with a total annual production of approximately 8 million bottles.
Visiting
Explore the Saint Estephe wine region with Cellar Tours on a Bordeaux Wine Tour. Enjoy exclusive VIP tastings at Chateau Cos D'estournel and dine at Bordeaux restaurants.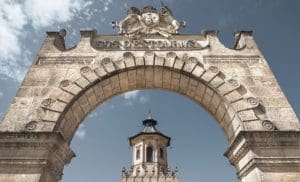 Terroir
The terroir is quite different from neighboring Pauillac; as the gravel washed down, the Gironde diminishes, there is a stronger mixture of clay found in it. In the northern and western parts of the region, sandier soils tend to give lighter wines, while the cooler clay and limestone soils are more situated to Merlot. There has been a significant shift toward Merlot in recent years, replacing Cabernet Sauvignon with a grape that is easier to grow in many parts of St-Estephe.
However, there is exceptional terroir in the appellation, but it is found in relatively discreet locations along the band of croupes or gravel mounds overlooking the estuary. Nevertheless, heavier clay soils dominate overall, and these are ideal in hot vintages like 2003. Even in the blistering heat of 2003, the vineyards at St-Estephe were relatively untroubled because of clay soil's excellent water-retaining properties. Conversely, in wet or cool years, St-Estephe generally performs less well than the other regions.
Overall, though, St-Estephe is a very dynamic region bursting with delicious wines. In the past, harsh tannins were often a result of picking the Cabernet Sauvignon far too early. Still, that practice has been largely abandoned as estates strive for ever greater levels of excellence and reliability in this splendid and beautiful part of the Medoc.