Profile of Château La Lagune
This elegant wooded property is one of the first major sights the wine lover encounters when driving to the Médoc region from Bordeaux town – what better way to begin your tour than to visit the Château? It's a Château with a difference, a whimsical Chartreuse style Château meaning there is only one story, no tall imposing buildings here. Still, as Chartreuses go, this is on a grand scale and has been carefully restored by the present owners, the Frey family. The buildings are partially screened by forest, enticing the casual visitor in the Médoc to get out of their car and peer into its fairytale courtyard.
Château La Lagune was already an important estate in the late sixteenth century, but it was not until the eighteenth century that it was developed as a wine estate. As is so often the case in Bordeaux, the property changed hands several times until 1886, when the Seze family acquired the estate and maintained it through several generations. In 1961, it was taken over by Rene Chayoux, the owner of the Champagne house Ayala. And then in 1999 Ayala and La Lagune were bought by the Frey family, who have since dedicated their lives to restoring the Château and the reputation of the wines. La Lagune is now driven by Caroline Frey, a very talented wine-maker! Her beauty and passion for winemaking have proved invaluable in maintaining the profile of La Lagune as a major player in the Haut- Médoc.
Their vineyards are located in a single parcel of sandy-gravelly soil, a special terroir that produces supremely elegant, fine red wines. The Château is undoubtedly beautiful but the highlight of the tour is arguably the ultra-modern winery. It's hard not to feel a sense of awe when visiting the property as this stunning building, designed by Patrick-Baggio and completed in 2003, surely has no peers in the region. An essential first stop on your tour through Bordeaux!
Wines produced
Château La Lagune (Grand Vin)

60% Cabernet Sauvignon, 30% Merlot, 10% Petit Verdot, 18 months in 55% new oak barrels.

Moulin de La Lagune (Second wine of the property)

40% Cabernet Sauvignon, 40% Merlot, 10% Petit Verdot, 12 months in 40% new oak barrels. Less concentration and power than the first wine.

Mademoiselle La Lagune (Third wine of the property)

40% Cabernet Sauvignon, 40% Merlot, 10% Petit Verdot, 12 months in 40% new oak barrels. A simple wine for early drinking.
Winery details
83 Avenue Europe
33290, Ludon-Médoc, Bordeaux
France
Tel +33 (0) 557 88 82 77
Fax +33 (0) 557 88 82 70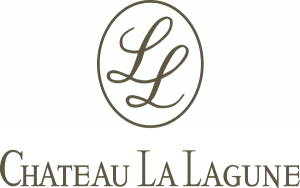 Appellation

AOC Haut-Médoc / Third Growth

Founded

1715

Area under vine

75 ha

Age of vines

25 years+

Oak barrel origin

French
Winemaker

Caroline Frey

Owner

Jean-Jacques Frey

Production

450,000 bottles

Grape varietals

Cabernet Sauvignon, Merlot and Petit Verdot