Château La Nerthe Winery Guide
The gorgeous historic property of Château La Nerthe has been making exceptional Châteauneuf-du-Pape wines since the 16th century. Yet, today it symbolizes a thoroughly modern approach to winemaking and organic viticulture; this passion for quality allied with a dedication to terroir results in an impressive, small wine selection produced with exceptional skill and prowess. We must largely thank Christian Voeux, who has recently taken over from the former winemaker Alain Dugas and continues to take Château La Nerthe to new heights.
Château La Nethe owes its origins to the aristocratic Tulle family of Villefranche, who acquired the Rhône Château in 1560. Under their stewardship, the Château soon developed an enviable reputation for quality, helping to put the region on the fine wine map. European royalty showed an interest in la Nerthe, and the wine was served in Royal Courts in London, Rome, Versailles, and beyond. The estate remained in the Tulle family for generations until the outbreak of phylloxera in the 19th century, which wiped out most of Europe's vineyards. Tulle sold the estate to the commander Josep Drucos. It remained in his possession until 1985, when it came under the control of the Richard family. Trusting the legendary vineyard manager Alain Dugas with his wines, Château La Nerthe went from strength to strength until Dugas retired in 2008.
Today, Christian Voeux continues to respect Dugas' vision of 21st-century winemaking paired with the utmost dedication to nurturing the delicate terroir of the Châteauneuf-du-Pape region. A modern, sophisticated approach to vinification has produced magnificent results throughout the small range, with judicious use of barriques for both reds and whites. The reds are dense, deeply colored, supple, and impeccably balanced, whereas the whites show exactly what Châteauneuf-du-Pape is capable of – Clos de Beauvenir is on a par with top white Burgundy. This is unquestionably one of the finest sources of Châteauneuf-du-Pape available today in both red and white.
Wines produced
Château La Nerthe Blanc

A varying blend of four grape varieties: Roussanne, Grenache Blanc, Clairette and Bourboulenc. Partly fermented in stainless steel tanks, Roussanne undergoes a fermentation in 225 litre barrels. A proportion of the barrels is new. The wine is then aged in French oak for 6/7 months.

Château La Nerthe Clos de Beauvenir

A varying blend of several grape varieties: including Roussanne and Clairette. Fermented in 225 litre barrels. A proportion of the barrels is new. The wine is then aged in French oak for 8/9 months. The prestige white wine of the property.

Château La Nerthe Rouge

A varying blend of several grape varieties, including Syrah, Grenache and Mourvedre. The wine is partly fermented in stainless steel tanks, the rest being fermented in barrel. The wine is then aged in French oak, a proportion of which will be new for 12 months.

Château La Nerthe Cuvée des Cadettes

A varying blend of Grenache, Syrah and Mourvedre. The wine is fermented in barrels and then aged in new French oak for a minimum of 12 months. Des Cadettes is then subject to several years bottle age before release. One of the top wines of the appellation.
Facts & Figures
Appellation
AOC Châteauneuf-du-Pape
Area under Vine
90 Hectares
Winemaker
Christian Voeux
Production
Approximately 150,000/200,000 bottles
Grape varietals
Syrah, Grenache, Cinsault, Mourvedre, Grenache Blanc, Marsanne
Grape Varieties Used by the Winery
Winery Appellations
Explore the unique character of Terret noir, a dark-skinned grape from France's Rhône valley. Plan your trip!

Read more
Winery Contact Details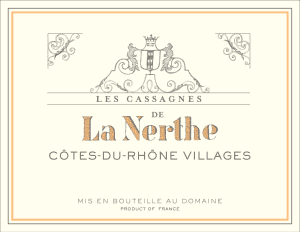 More information
If you would like us to customize an exclusive luxury tour, contact us and let us know your travel plans. We offer luxury food and wine tours for private groups of a mininium two guests. In addition, all of our private, chauffeured tours are available year-round upon request.
Cellar Tours
Welcome to Cellar Tours, the premier Luxury Travel Specialist since 2003. Our goal is to provide you with the ultimate food and wine vacation experience, with exclusive Mercedes chauffeured tours that showcase the best of local cuisine and wines.
Our team specializes in crafting bespoke, custom-designed vacations, events, and incentives tailored to your unique tastes and preferences. Travel is not just about seeing new places - it's about creating unforgettable memories and indulging in the finer things in life.
As members of Slow Food, OTAVA (Travel Agency Association in Spain), and the IACP (International Association of Culinary Professionals), we promote sustainable tourism and support local communities. We work closely with top-rated hotels, restaurants, and wineries to provide you with the highest level of service and attention to detail.
Whether you're planning a romantic getaway, a family vacation, or a corporate retreat, let Cellar Tours be your guide. With our passion for food and wine, extensive knowledge of local culture, and dedication to exceptional customer service, we're confident we can exceed your expectations.
Contact us today to start planning your dream vacation – we can't wait to hear from you!