Profile of Château Lagrange
There are few estates in Bordeaux that have the 'wow' factor quite like this one. Château Lagrange is an imposing and immense estate unrivaled in the region for its buildings' scale and grandeur. Although it is positioned quite far inland in the Saint Julien wine region, it seems to stretch forever towards the Gironde estuary; visitors are even afforded a view from the Bell-tower! Its origins as a wine estate date back to the 1630s, and it remained in the Cours family until 1712. A distant relative, Charles de Branne, inherited it and ran it successfully for many years after. Another relative, Jean Cabarrus, brought the estate in 1976 and substantially improved the vineyards. Then, the politician Comte Duchatel owned the estate from 1842 to 1875, and at this time, it was renowned as the largest estate in the Medoc region.
Granted, size isn't everything, but Lagrange looked set to enjoy a pretty rosy future until this point. However, the next owner was a rather mad Englishman who built an aviary inside the Château for his collection of exotic birds. Imagine the mess! He was arguably more interested in his collection of cockatiels than making wine. Gradually the vineyards shrank. The owner from 1925 was Manuel Cendoya, but as the depression sank in, he began selling off the vineyards. Things began to look bleak for the estate and would not improve for many years.
Salvation came in the form of a Japanese company, Suntory, which brought Lagrange in 1983. By the time they took control, there were only 56 hectares of vineyards, mostly Merlot. The energy and time they put into the restoration of the property was nothing short of phenomenal. Suntory spent a small fortune on the estate, investing almost 19 million pounds in a complete renovation of the buildings. Of course, a wine estate is more than pretty buildings, which is why the company hired the talented Macel Ducasse to run the Château, which he did until his retirement in 2007. A second wine was created to enhance quality under his direction, and the vineyards were doubled in size. Lagrange now produces superb wines to match the grandiose nature of its revitalized estate, a definite must-see on your tour of this fascinating wine region. Contact us for more info on our "winemaker for a morning" events here.
Wines produced
Château Lagrange (Grand Vin)

66% Cabernet Sauvignon, 27% Merlot, 7% Petit Verdot 20 months in 60% new oak barrels.

Les Fiefs de Lagrange (Second wine of the property)

66% Cabernet Sauvignon, 27% Merlot, 7% Petit Verdot, 12 months in 25% new oak barrels. Less concentration and power than the first wine.

Les Arums de Lagrange

White Wine, 60% Sauvignon Blanc, 30% Semillon, 10% Muscadelle, 10 months in 80% new oak.
Winery details
St-Julien-Beychevelle
33250 Bordeaux
France
Tel +33 (0) 556 73 38 38
Fax +33 (0) 556 59 26 09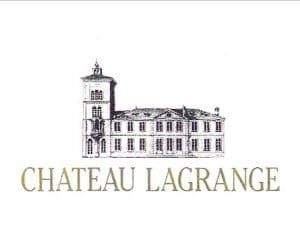 Appellation

St-Julien / Third Growth

Founded

1630

Area under vine

113 ha

Age of vines

25 years+

Oak barrel origin

French
Winemaker

Bruno Eynard

Owner

Suntory

Production

700,000 bottles

Grape varietals

Cabernet Sauvignon, Merlot, Petit Verdot, Sauvignon Blanc, Semillon, Muscadelle