No other region in Bordeaux has so high a proportion of classed-growths as St-Julien. It is a small commune, with the smallest production of the famous four appellations of the Medoc – Pauillac, Margaux, St-Julien, and St-Estephe. Critics typically describe the regional style as offering a transition point between Margaux and Pauillac, and there is some truth in this description. Situated north of the commune of Margaux, St-Julien is perhaps all things to all people, a heady combination of the striking power of Pauillac and the refined and exquisite perfume of Margaux. With comparatively few exceptions, its decorated chateaux make excellent wine year after year, even in the challenging vintages. This is perhaps the safest purchase of all the exalted vineyards of Bordeaux. Rarely does St-Julien, from Talbot's affordable wines to the 1st Growth quality of Leoville Las Cases, ever let you down.
Visiting
Explore the Saint Julien wine region with Cellar Tours on a Bordeaux Wine Tour. Enjoy exclusive VIP tastings at Chateau Lagrange and dine at the best local restaurants.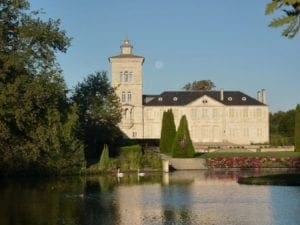 Terroir and Geography
Margaux and Cussac to the south, and Pauillac to the north. Its 920 hectares of vineyards (approximately) represent about 5.5 percent of the Medoc. Today St-Julien's annual production is roughly 5.5 million bottles, varying depending on the vintage in question. Like its neighbor Pauillac, St-Julien's terroir is very highly regarded indeed. The soil is essentially deep gravel on two extensive plateaux, a potent blend of quartz pebbles, sand, flint, and clay in varying proportions. The terroir also benefits from excellent drainage – invaluable in wet vintages. The secret to St-Julien's ability to cope with inclement weather is the jalles (small streams), which function as drainage channels.
This is also a relatively precocious region, and the grapes often ripen earlier than they do in Cussac to the south or in Moulis to the west. Also, the St-Julien vineyards often escape the hailstorms that can inflict such devastating damage in the Medoc.
Of course, like all Bordeaux regions, there are variations in quality and style. The great chateaux divide into two groups: the riverside estates epitomized by the Leoville estates around the village of St-Julien itself, and the southern group centered on the village of Beychevelle, led by noble properties Chateau Beychevelle, Branaire-Ducru, and Ducru-Beaucaillou, and reaching back inland with Chateaux Gruaud Larose and Lagrange.
But what exactly is it about St-Julien that makes it so irresistible? Perhaps it is because it offers connoisseurs a delectable hybrid – the best features of Margaux and Pauillac rolled into one. It may not have Chateau Margaux's finesse, nor does it demonstrate the power and muscularity of Latour. It borrows from both: forthright in its fruit expression, St-Julien is rarely austere. The same cannot be said for the poorer wines of the Haut-Medoc and St-Estephe. There are no First Growths in St-Julien, a hangover from the now outdated 1855 classification. However, there should be – few would deny that Leoville Las Cases is a First Growth estate in everything but name.