Profile of Château Pichon-Longueville Baron
Beautiful Deuxième Cru (Second Growth) Château Pichon-Longueville, in the Pauillac wine region is quite simply one of Bordeaux's finest estates and the poster child for superlative claret. The wines are powerful, virile, structured, and long-lived. Dominating the region with its architecturally splendid fairy tale Château, Pichon-Longueville's star talking point is the bold, baroque winery, which is floodlit at night, giving first-time visitors to the area a wonderful sense of the estate's theatricality and importance. For Pichon-Longueville – renamed from Pichon Baron – has enjoyed a remarkable history in Bordeaux, and like so many of its neighbors, has lived through prosperous and more challenging times.
Today, the wines of this renowned estate are justly celebrated. However, this was not always the case. Before the 1860s, the estate was joined with its twin property Pichon-Lalande, having been founded by the same family. However, following its owner's death, Joseph de Pichon-Longueville, and subsequently his son, Raoul, the estate was divided into two. Thereafter the fortunes of Longueville would slide when it was sold to the Boutellier family in 1933. Bertrand Boutellier, who inherited the property from his father Jean, showed little enthusiasm for producing fine Bordeaux, nor was he disposed to making an essential investment into the Châteaux. The wine quality slipped, and loyal customers slowly turned away.
The property's return to splendor occurred in the late 1980s when the family sold Longueville to the AXA Millsimes insurance firm. The company director, Jean-Michel Cazes, and his winemaker friend Daniel Llose, soon began an incredible program of improvements and restoration to this historical Château. Motivated by their desire to return Pichon to its former glory, they purchased new vineyards in superior sites. They commissioned the creation of the existing modern winery, designed by Patrick Dillon and Jean de Gastines. But most importantly, a massive investment was made into understanding the Longueville terroir, its best vineyard plots, in addition to modern winemaking techniques and only the finest French oak. The results speak for themselves: Pichon Longueville is now quintessential top-notch Paulliac; muscular, powerful, and concentrated wine of real 'breeding.' It is also very much a wine built to last; there is never any rush to drink Pichon from a good vintage and great years seem to last for many decades – truly, a fitting icon for the fine work.
Wines produced
Château Pichon-Longueville (Grand Vin)

(Vintage dependant) but typical blend: 60-80% Cabernet Sauvignon, 15-35% Merlot, 4% Cabernet Franc, 1% Petit Verdot. The wine is aged for 16-18 months in 70-80% new French oak. The prestige, first wine of the property, intended for long ageing.

Les Tourelles de Longueville (Second wine of the property)

(Vintage dependant) but typical blend: 50-60% Cabernet Sauvignon, 35-45% Merlot, 4% Cabernet Franc, 1% Petit Verdot. The wine is aged for up to 15 months in 20% new French oak. The second wine of the estate, suitable for earlier drinking.
Winery details
Château Pichon-Longueville Baron
Pauillac,
33250 Bordeaux
France
Tel +33 (0) 556 73 17 17
Fax +33 (0) 556 73 17 28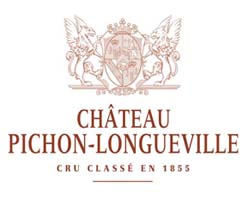 Appellation

AOC Pauillac / Second Growth

Founded

1646

Area under vine

70 ha

Age of vines

35 years

Oak barrel origin

French
Winemaker

JChristian Seely & Jean-Rene Matignon

Owner

AXA Millesimes

Production

400,000 bottles

Grape varietals

Cabernet Sauvignon, Merlot, Cabernet Franc and Petit Verdot