Saddling Umbria and Latium (Lazio in Italian), the renowned Falesco Winery defies definition. Not only is this excellent boutique winery's regional character hard to pinpoint, but so is its personal style; it is at once firmly rooted in the past and dedicated to innovation. On the one hand, Falesco has a stellar reputation for its cult wines like the powerful Montiano or the pleasing Vitiano, both of which use international varieties. Still, the winery is also known for its historical rigor in recuperating ancient autochthonous varieties like Roscetto.
Run by Riccardo and Renzo Cotarella (both highly respected winemakers; Riccardo is perhaps Italy's best-known wine consultant, and Renzo is Antinori's wine director), the winery is set in the historic winemaking region of Montefiascone, near the shores of pretty Lake Bolsena. The cellar itself is in Montecchio, Umbria (about 30 miles south of historic Perugia), although the vineyards are scattered on both sides of the border. This area, hemmed in by the Tyrrhenian Sea to the west and mountains to the east, offers a volcanic soil that allows many different varietals to thrive. One of Falesco's best-known vineyards is Poggio dei Gelsi, where the ancient varietal Roscetto was identified.
Falesco originally dedicated itself to making a good and highly commercial "Est! Est!! Est!!!" white wine. Still, within a few years, it had expanded its vision and was also making specialty wines. These days, the traditional fruity whites are popular, but the winery is even better known for its high-quality red wines like the flagship Montiano or the everyday Vitiano. Many wine lovers accredit these two wines to bestowing the Latium region with a prestige it hasn't enjoyed for centuries. Falco's broad range means that it can produce excellent luxury wines and excellent value wines. Visit Falesco on a private Umbria & Le Marche Winery Tour, organized by Cellar Tours.
Wines produced
Est! Est!! Est!!! Poggio dei Gelsi

Trebbiano 30%, Malvasia 30%, Roscetto 40%, 13% Alcohol.

Est! Est!! Est!!! di Montefiascone DOC

Trebbiano, Malvasia and Roscetto blend; 12.5% Alcohol.

Montiano

100% Merlot; 13.6% Alcohol; Aged 12 months in oak barrels.

Vitiano

Blend of Cabernet Sauvignon, Merlot and Sangiovese; 12.9% Alcohol; Aged 3 months in oak barrels.

Pesano Merlot dell' Umbria

100% Merlot; 13% Alcohol; Aged 5 months in barriques.

Vitiano Blanco

Blend of Vermentino and Verdicchio; 13.1% Alcohol; Aged in stainless steel tanks for a few months.

Ferentano

100% Roscetto; 13.5% Alcohol; Aged 3 months in barriques.

Pomele

100% Aleatico; 10% Alcohol; minimal ageing.
Winery details
Loc. San Pietro snc
05020 Montecchio (TR)
Tel +39 0744 9556
Fax +39 0744 951219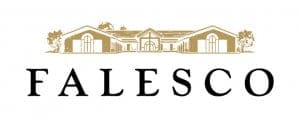 Appellation

Est! Est!! Est!!! di Montefiascone

Founded

1979

Area under vine

50 hectares
Winemaker

Stefano Valla

Owner

Riccardo and Renzo Cotarella

Grape varietals

Merlot, Cabernet Sauvignon, Sangiovese, Roscetto, Vermentino, Verdicchio, Aleatico, Trebbiano, Malvasia