Profile of La Conreria de Scala Dei
La Conreria de Scala Dei has to be one of the most beautifully located wineries in the Iberian Peninsula. Nestled in the ancient village of Scala Dei, right under the beautiful Montsant ("holy mountain") and just next to the 12th-century Cartoixa d' Scala-Dei, a stunning monastery in ruins, today the symbol of the chic Priorat wine region. This top-end winery, run by three partners (one of whom is a priest), is particularly well-known for making exciting white wines with the native Garnacha Blanca grape (Grenache Blanc). Priorat is not the most famous Spanish wine regions for whites; one usually thinks of the blockbuster, high alcohol reds (which La Conreria d' Scala Dei also makes) adored by American, French, and British wine critics. But wines such as "Nona" and "Les Brugueres" stand out in the sea of wines as unusual, interesting, and deliciously memorable. They are both creamy, oily even, and need food.
Visiting La Conreria de Scala Dei is a treat. Winemaker Jordi Vidal, one of the most modest and talented enologists in the area, will let you taste a sample of the "black wines" from the barrel and have a peek around the micro-boutique winery. The cellars lead out to a vineyard with views over the gorgeous mountains.
Wines produced
Iugiter

Dry Red. Blend of 85% Garnacha tinta (negre), 10% Cabernet & 5% Carineña. 6 months in new American oak.

Les Brugueres

Dry White. Young. 100% Garnacha blanca, 100 year old vines. Single vineyard wine. Fermented in stainless steel and only lightly filtered.

Nona

Dry White. Aged. 100% Garnacha blanca. Cask fermented and 3 months aging in new French oak

Laudes

65% Garnacha tinta (negre) & 35% Cabernet Sauvignon.
Winery details
La Conreria de Scala Dei
Mitja Galta, 32
43379 Scala Dei
Tarragona
Tel +34 977827055
Fax +34 977827055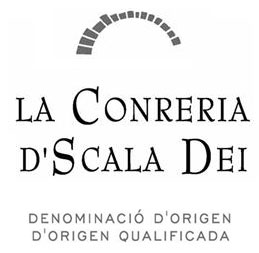 Appellation

Priorat

Founded

1997

Area under vine

13 ha

Oak barrel origin

American and French
Winemaker

Jaume Sabater

Owner

Josep Maria Mitjans

Grape varietals

Garnacha Tinta (Grenache Noir), Cabernet Sauvignon, Cariñena (Carignan), Merlot, Garnacha Blanca (Grenache Blanc)