Pomerol is something of an anomaly in the Bordeaux hierarchy of venerable wine regions. While the Medoc and St-Emilion place much value and emphasis on their classification system, Pomerol has always got by without one. There is no long tradition of steady selling to build on. Chateaux are small family affairs and subject to change as individuals come and go. Yet its highly sought-after wines can fetch a higher price than the much larger First Growths of the Medoc, and an astonishing number of boutique properties, for an area no bigger than St-Julien, is widely agreed to be among the best in the whole of Bordeaux.
Its renown is based on Bordeaux's gentlest, richest, most velvety, and hedonistic red wine – white grapes are not permitted in Pomerol, although white styles were made well into the 19th century. Merlot is the predominant grape variety, with Cabernet Franc playing a supporting role. Good Pomerols have deep color without the marked acidity and tannin that often go with it, ripe-plummy, even creamy smell, and sometimes a great concentration of all their qualities: the essence of great wine.
Visiting
Explore the Pomerol wine region with Cellar Tours on a Bordeaux Wine Tour. Enjoy exclusive VIP tastings at top chateaux and dine at the best local restaurants.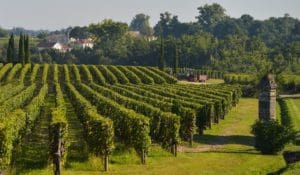 Orientation & Terroir
However, visitors to the region are often disappointed; Pomerol is such a curious corner of the world, a place that invokes Gertrude Stein's famous observation: "There is no there-there." It lacks a beating heart – there is no real village center, and almost identical small roads criss-cross the plateau apparently at random. The landscape is evenly dotted with modest houses – each rejoicing in the name of Chateau, although they are a world apart from the stately mansions of the Medoc. This is Pomerol – there is nothing more to see.
The terroir, on the other hand, is very special indeed. It is also very varied, with a good deal of sand and gravel and the legendary iron-rich clay of the plateau, known as the crasse de fer. Indeed, geologically it is another big gravel bank, slightly rising and falling but remarkably flat overall. Towards the Libourne, the soil tends to be sandy, while to the east and north, where it meets St-Emilion, it is often enriched with clay. There are approximately 780 hectares under vine; the region's surface area measures four kilometers by three. It is bordered to the north by the Barbanne stream, a tributary of the Isle; to the east by St-Emilion, and to the south and west by the town of Libourne, with a few properties well within city limits. Over 120 producers make wine in Pomerol, and there are no cooperatives. The average output is approximately 4 million bottles.
The finest estates, such as Petrus, La Conseillante, L'Evangile, and Lafleur-Petrus, are tightly grouped together on the clay plateau and make the densest, fleshiest, and most opulent wines. In contrast, Chateau de Salles produces a totally different, but just as worthy style of Pomerol – lighter and fragrant, but without the density of estates like Bon Pasteur. Many view Pomerol as a homogenous region, making homogenous wine. Nothing could be further from the truth – the majestic richness of Le Pin has little in common with the more subtle charms of Chateau Ferrand.
However, what unifies Pomerol's wines is their approachability – the wines are ready relatively soon for Bordeaux. The chief grape here is not the tough-skinned Cabernet Sauvignon, whose wine has to live through a tannic and often austere youth. It is said that great wines like Latour should not be opened until they're at least 15 years old. Not so in Pomerol; even the best wines have produced all their perfume and achieved their dazzling finesse within a dozen years or so, and many are already attractive at five years old. For impatient oenophiles, that is worth its weight in gold.
Top Pomerol Chateaux: Le Bon Pasteur, La Conseillante, L'Evangile, Gazin, Lafleur-Petrus, Le Pin, Nenin, Petrus, Trotanoy, Vieux Château Certan