Ever since the armies of William the Conqueror set sail from its shores in 1066, Normandy's beautiful region has played a pivotal role in European affairs. Indeed, Normandy and Bayeux are a veritable paradise for history lovers. In essence, it was the front line for Anglo-French hostilities for much of the Hundred Year's War and later became the crucible for Impressionist art. The landscape is no less stunning, dotted with chateaux and gorgeous cathedrals, as well as the spectacular abbey of Mont St-Michel. Yet the contemporary also plays a vital role in Normandy today – chic boutiques and excellent restaurants are just as enticing and unmissable as the famous Bayeux tapestry.
History
Modern Bayeux is surrounded by France's very first ring road, built by British military engineers right after D-Day. A fitting accolade, as the city was founded as a Gallo-Roman settlement in the 1st century BC under the name Augustodurum. The Romans were responsible for bringing roads to Western Europe – centuries of conflict between the Celtic Gauls and the Romans ended in 52 BC when Caesar's legions crushed a revolt by many Gallic tribes near present-day Clermont-Ferrand. Eventually, Gallic resistance collapsed, and Roman rule in Gaul (France) reigned supreme.
By the end of the 3rd century, Bayeux had grown into a substantial Roman settlement. A walled enclosure was built to protect the city and remained until the 18th century, although its layout is still visible and can be followed today. The city was used as a coastal defense station against pirate attacks, and the Romans even stationed a legion to protect the surrounding area.
France remained under Roman control until the 5th century, when the Franks and the Alemanni invaded and overran the country from the east. Post-Romans, the Franks adopted important elements of Gallo-Roman culture (including Christianity). Their eventual assimilation resulted in a fusion of Germanic culture with that of the Celts and the Romans.
However, while the Frankish Merovingian and Carolingian dynasties ruled from the 5th to the 10th centuries, Bayeux would take a different path. During the 9th century, Scandinavian Vikings raided France's western coast, eventually forming the Duchy of Normandy a century later. Bayeux fell under their control in the middle of the 10th century, ruled by the pagan Viking Hagrold. He defended the city against numerous attacks from the Franks.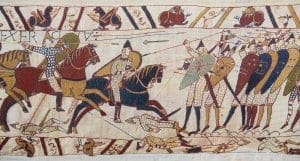 Middle Ages
The tale of how William the Conqueror and his Norman forces occupied England in 1066 is, of course, well recounted. It has been immortalized in the legendary Bayeux Tapestry, showcased inside the city's Musee de la Tapisserie de Bayeux. Yet following the Norman conquest, William based his French Norman capital in Caen, marginalizing Bayeux to an extent.
The subsequent infighting between William's successors and rivalry between France and England for control of the vast English territories would last three centuries. William's son, Henry I, defeated his brother Robert Curthose for control of Normandy, burning Bayeux as an example to other potential usurpers. However, under Richard the Lionheart's reign, the city recovered its prosperity and became a critical Norman outpost.
Sadly, during the Hundred Years' War (1337-1453), Bayeux suffered tremendously at the hands of the English forces. The city was repeatedly pillaged until Henry V of England captured Bayeux in 1417. Luckily for the French, a 17-year-old warrior called Jeanne d'Arc persuaded the French legitimist Charles VII that she had a divine mission from God to expel the English from France. Convicted of witchcraft and burned at the stake, Joan of Arc nevertheless inspired Charles VII to retake France. Following the battle of Formigny, Charles recaptured Bayeux and granted its citizens a general amnesty in 1450.
The end of the Hundred Years' War marked a new era of prosperity for Bayeux. Many fine mansions were built across the city, drawing in settlers and merchants from wider Normandy. In 1491, Charles VIII wed Anne de Bretagne, marking the unification of an independent Brittany with France.
The 16th and 17th centuries were defined by religious conflict and continuing political upheaval. The Reformation swept through Europe in the 1530s, leading to the Wars of Religion between the Huguenots (French Protestants), the Catholic League, and the Catholic Monarchy. Subsequently, at the tender age of five, the Roi Soleil (Sun King) ascended the throne as Louis XIV (r 1643-1715). He involved France in several rash wars, although he was also responsible for creating the first centralized French state.
Social and economic crises marked the 18th century. France was declared a constitutional monarchy, and several reforms were enacted. But as patriotism and nationalism mixed with revolutionary fervor, the radical Jacobins declared France's first Republic in 1792. Louis XVI was publicly guillotined in 1793 – his wife Marie-Antoinette was executed several months later.
Yet French democracy was not to last. In 1799, Napoleon Bonaparte overthrew the Republic and assumed power as consul of the First Empire. To consolidate and legitimize his authority, Napoleon waged several wars in which France gained control of most of Europe. However, in 1814 Napoleon was exiled to Elba – his triumphant return was cut short at the battle of Waterloo, leading to his banishment.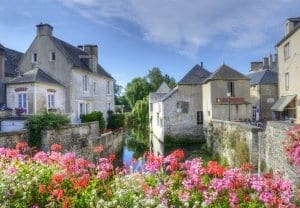 Modern Times
Subsequently, Napoleon's nephew led a coup d'etat in 1851 and proclaimed himself Emperor Napoleon III of the Second Empire. France enjoyed significant economic growth at this time, although, like his uncle, Napoleon III embroiled France in various catastrophic conflicts, including the Crimean War and the humiliating Franco-Prussian War, which ended with Prussia taking the emperor prisoner. Upon hearing the news, defiant and very hungry Parisians took to the streets demanding a republic. France's third foray into democracy was born.
The 20th century would, of course, be marked by the devastating conflict of the Second World War, in which Bayeux would play a deciding role. An 80 km-long stretch of beach and Bayeux's Musee Memorial 1944 Bataille de Normandie tell the tale of the D-Day landings on 6 June 1944, when 100,000-plus allied troops stormed the coastline to liberate most of Normandy and Brittany. Bayeux was the first city to be liberated, and on 16 June 1944, General Charles de Gaulle made the first of two major speeches in Bayeux, underlining France's alliance with the allied forces. Fortunately, the city's rich architectural heritage was almost untouched by the fighting and remains mostly unchanged today.
Bayeux in the 21st century is, as one would expect, a significant tourist attraction. Its fame has spread thanks to a 68m-long piece of painstakingly embroidered cloth: the 11th century Bayeux Tapestry, whose 58 scenes vividly tell the story of the Norman invasion of England. But don't make the mistake of thinking that this fascinating city is a one-trick pony – there's more to Bayeux than this unparalleled piece of needlework. Above all else, it's a great place to soak up the Norman atmosphere, as Bayeux's delightful city center is crammed with 13th-18th-century buildings, many of which are filled with high-class restaurants and charming cafes. The historical, the intellectual, and the sensual – there's something for everyone in Bayeux.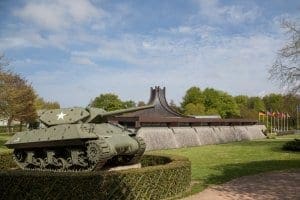 Gastronomy & Wine
The departement (region) of Calvados stretches from Honfleur in the east to Isigny-Sur-Mer in the west and includes Caen, Deauville, and, of course, Bayeux. The area is famed for its rich pastures and top-quality produce, including butter, cheese, cider, and the distinctive apple brandy that bears the region's name. Indeed, visiting gastronomes famously have to be dragged out of Normandy kicking and screaming, for there are enough gastronomic delights to satisfy even the most hardened of critics.
Today, cream, apples, and seafood form the holy trinity of Norman cuisine. Rich and hearty, chefs in this part of France regard their culinary traditions as sacrosanct, and molecular interpretations of classic dishes are rarely found outside of the most avant-garde Michelin restaurants. It is difficult to know where to start, but specialties include Cochon de Bayeux (Bayeux-style pork), moules a la crème Normande (mussels in cream with a dash of cider), and canard a la rouennaise ('Rouen-style duck'; duck stuffed with its liver and served with a red wine sauce).
However, of vital importance is to temporarily interrupt your pleasure with a trou Normand (literally 'Norman hole'; a glass of Calvados) to allow room for more courses. The Normans are justifiably proud of their signature spirit, as they are of the local cider, which is delicious. Normandy's Route du Cidre (Cider Route) wends its way through the Pays d'Auge, a picturesque area of orchards, pastures, hedgerows, half-timbered farmhouses, and stud farms. The area's AOC cider, made from a blend of apple varieties, is renowned for its fruity flavor, tangy aftertaste, and vibrant acidity – a million miles away from the mass-produced supermarket plonk. Traditional Normandy cider takes about six months to make, while Calvados takes even longer. After the fermented apple juice is distilled twice, the resulting liquid is aged in oak casks for anything from two years to many decades. As with Cognac, aging ends the moment Calvados is bottled. It's an exquisite tipple bursting with rich, complex aromas and flavors. However, Normandy has no tradition of viticulture, and venerable vintages that appear on restaurant menus will come from different corners of France, including Champagne, the Loire, and Bordeaux.
Cheese, on the other hand, is very much a Norman delicacy. It is with great pride that locals will introduce you to Camembert, a deliciously moist, soft, creamy cheese made from unpasteurized cow's milk. It was first established in the 18th century in the village of the same name and was famously given to French soldiers during World War I.
Its nearest competitor is arguably Pont L'Eveque, a very pungent soft cheese made from cow's milk, while Livarot is incredibly powerful in flavor and aroma, with notes of black truffle. Lastly, Neufchatel is widely loved for its more subtle flavor – a soft, crumbly, mold-ripened cheese that dates back to the 6th century. This cheese is often made in a heart's shape and is a contemporary favorite for topping wedding cheesecakes.