Profile of Château Lynch Bages
Château Lynch Bages is as famous for its exuberant owner, Jean-Michel Cazes, as for its superlative and long-lasting claret. Indeed, the very mention of the name Lynch Bages always brings a broad smile to any Bordeaux lover's face; it's one of the most adored estates in the Médoc, producing superbly excellent wines, whatever the vintage conditions. Cazes, despite his advancing years, has been a proud and potent ambassador for Bordeaux wines for decades, traveling the world to engage and delight both connoisseurs and the uninitiated. He has also found time to establish a Michelin starred restaurant and luxury hotel, set up a wine school, and create the region's finest bakery. Yet, on paper Lynch Bages remains a mere 5th growth. But, long term fans have always known the truth about this iconic name; its wine sails far above the 1855 ranking, and today, no one disputes that Lynch Bages delivers wines far superior to some 3rd and even 2nd growth Châteaux.
Wine has been made on this site in the Pauillac region for centuries – in 1728, landowner Bernard Dejean sold the property to Pierre Drouillard, who sadly died in 1749. Here begins the estate's association with the Lynch family, as Drouillard's sister married Irish descent, Thomas Lynch. Indeed, this property is considered one of the famous Irish Wine Geese estates. Thereafter, as is so often the way with Bordeaux wine estates, the Château changed hands many times, until it came into the possession of a General called Felix deVial, in the 1920s. DeVial had little real interest in the day to day running of the property and so hired Insurance agent Jean-Charles Cazes to manage it for him.
The first Cazes to find themselves involved in wine, Jean-Charles decided to purchase the property from deVial in 1939. He made dramatic improvements across the board, including replanting vineyards and restoring the then decaying buildings. His son, Andre, took over in 1968, but by the early 1970s, he found it increasingly hard to dedicate the time to Lynch Bages that it deserved. Enter Jean-Michel. Andre's son moved from Paris in 1973 and promptly set the Château on course towards unparalleled greatness, investing in major tourism projects and renovating the archaic winery. Cazes also hired the talented winemaker Daniel Llose, a move he has not regretted. His direction and charisma are undoubtedly the reasons why today Lynch Bages is held in such high regard by Bordeaux aficionados around the world. His son, Jean-Charles, has taken over the reins with admirable ease, but it is always Jean-Michel that we will primarily associate with this delightful property.
Lynch Bages' wines are much loved by anyone fortunate enough to taste them. And for a good reason. The red displays all the quintessential characteristics of a superlative Pauillac: powerful, structured, fruit-driven, and long-lived. But unlike some other claret, the wine can be enjoyed on release, saving you a painstaking wait. The white is similarly excellent, an elegant, fruit-driven white Bordeaux at an attractive price. Like its red cousin, it never disappoints, and even in difficult years, the Cazes family always seem to craft a crowd-pleasing wine, loved by connoisseurs and critics alike – a fitting poster child for the legendary red wines of Bordeaux. Visit this dynamic wine estate with us on a private VIP Bordeaux wine tour!
Wines produced
Château Lynch Bages (Grand Vin)

72% Cabernet Sauvignon, 23% Merlot, 3% Cabernet Franc, 2% Petit Verdot. Fermentation takes place in stainless steel tanks, usually for about 3 weeks. The wine is then aged in 65% new French oak for 15 months. The prestige wine of the property, suitable for extended cellaring.

Echo de Lynch Bages

47% Cabernet Sauvignon, 41% Merlot, 12% Cabernet Franc. Fermentation takes place in stainless steel tanks, usually for about 3 weeks. The wine is then aged in one year old French oak for 12 months. The second wine of the property, accessible on release.

Blanc de Lynch Bages (White)

60% Sauvignon Blanc, 27% Semillon, 13% Muscadelle. 50% of the wines is vinified in stainless steel tanks to conserve freshness and 50% is fermented in 100% new French oak. The wine is then aged on its lees to enhance richness and texture.
Winery details
Pauillac Médoc
33250 Bordeaux
France
Tel +33 (0)556 73 24 00
Fax +33 (0)556 59 26 42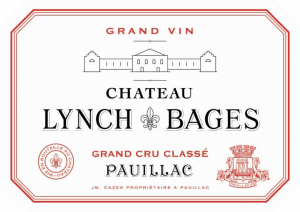 Appellation

AOC Pauillac / 5th Growth

Founded

1728

Area under vine

95 hectares

Age of vines

35 years+

Oak barrel origin

French
Winemaker

Jean Charles Cazes/ Daniel Llose

Owner

Cazes family

Production

480,000 bottles per annum

Grape varietals

Cabernet Sauvignon, Merlot, Cabernet Franc, Petit Verdot, Sauvignon Blanc, Semillon, Muscadelle.