Welcome to the beating heart of Argentina's wine industry. Mendoza, centered on a very attractive, tree-lined city, has always been the country's most important 'vineyard,' with many very different regions and terroirs within it. This is where the most exciting developments in viticulture have occurred, and where international companies typically decide to invest their dollars. Today there are over 150,00 hectares of vineyards in Mendoza and more than 1,000 wineries.
Terroir
So you may ask, where to start? Well, central Mendoza has the longest and proudest tradition for fine wine, and a high percentage of Argentina's most renowned and respected wineries are based here. Indeed, the talent that continues to flow into central Mendoza is remarkable, coupled with an increasing emphasis on matching a specific variety to a place, and a greater understanding of the region's complex mosaic of terroirs. Vineyards on either side of the avenues that radiate from the city, in the Luyan de Cuyo appellation, form what is perhaps Mendoza's most important sub-region for premium wine. The Malbec grown here is arguably Argentina's finest; planted on particularly poor soils, the appellation's vineyards are among some of the country's oldest, which escaped Argentina's enthusiastic vine-pull schemes in the late 20th century.
In addition, central Mendoza benefits from a temperate (almost cool in the district of Agrelo) climate and a unique terroir that incorporate high amounts of gravel in the topsoil, whereas elsewhere in Mendoza soils are typically alluvial and sandy. Moreover, there are none of the salinity problems that can cause difficulties in other parts of Argentina.
Moving further east, one encounters growers and producers that were (traditionally) generally in the market for quantity, rather than quality. And it is certainly true that the growing conditions in this part of Argentina present greater challenges – vineyards here are at lower altitudes and the cooling influence of the Andes is largely negated. However, quality is improving and an emerging generation of growers are realizing that there is a shrinking global market for bad wine.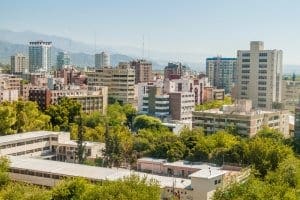 Uco Valley
Which brings us nicely on to the exciting developments taking place in the Uco Valley. This is Argentina's other must-visit region from the fine wine lover's point of view. It is named not after a river but after a pre-Columbian Indian chief reputed to have introduced irrigation here. Although the first vines were planted as recently as the 1980s, the Uco Valley now has well over 10,000 hectares of vineyard, at altitudes of 1000-1700m above sea level. Here, high-altitude is king and producers such as Catena and Terrazas de Los Andes specify precise altitudes on their front labels. It's perhaps the most vital 'terroir-modifier,' and the single most important ingredient in fine wine production in the Uco Valley, situated south of the city of Mendoza.
At the top of the hierarchy – literally and figuratively – are the mountain vineyards in the Tupungato subregion, where much of Argentina's fine Chardonnay is grown, in addition to sublime Malbec and Bordeaux red varieties. Tupungato has been the focus of sophisticated modern vineyard development, and some of the older wineries are at a distance from the vineyards. Diurnal temperature variation is another vital factor in allowing wineries to make balanced, elegant wines – nights are sufficiently cool to produce delicate fruit flavors and acidity levels are sufficiently high to maintain freshness in the wines. In fact, frost is a constant worry and late frosts are a particular threat in the east of the Uco Valley on the lower slopes of the San Carlos subregion.
Indeed, Tupungato's terroir is not perfect, but these conditions do seem 'designed' to provide wines with excellent aromatics, color, structure and fruit flavors. It is very rare for a wine made in Mendoza, however young, to have astringent and harsh tannin. The prevailing texture of Mendoza red is velvet, a wine that will age beautifully but offers much for the impatient wine lover.