Winegrowers in the southern Rhône Valley love to dash expectations. First-time visitors anticipate a plethora of rich and unctuous red wines baked under the Provençal sun and picked at optimum ripeness. In some instances, that is precisely what the region delivers. Yet there is a world of variety to discover in the southern Rhône, with excellent white, rosé, and even dessert styles being produced. Beaumes-de-Venise, a hitherto unknown part of the viticultural landscape, is one such region that wears its chameleon colors with pride.
Beaumes-de-Venise was marketing delicious sweet wines long before dry reds became the height of fashion. Awarded appellation status in 1945, the zone staked its reputation on powerful and aromatic Muscat Vin Doux Naturel – a potent concoction of acidity and sweetness. But in recent times, red blends from Beaumes-de-Venise have also come to the fore, as growers continue to exploit their superior soils and the trend for quality labels that show a sense of place. Make no mistake: this is a region in the ascendant. It merits a closer inspection.
Geography and terroir
Châteauneuf-du-Pape, the star of the southern Rhône, needs little introduction. Located in south-eastern France, it has produced superlative and heady red wines for centuries. However, what is less commonly known is that the appellation is surrounded by a network of communes to the east and west, all offering a unique interpretation of the local soils and climate. Beaumes-de-Venise is undoubtedly the most "recherché" of these wine villages, situated to the east of Orange, a few kilometers from the river itself. The most iconic landmark is the Canal du Carpentras, which runs its course to the town of Carpentras in the south, passing through Beaumes-de-Venise in the process. It was built to allow growers to irrigate their crops in particularly dry years, conditions that are unfortunately occurring with greater frequency.
Indeed, only robust grape varieties can thrive in this sweltering Mediterranean climate – temperatures in July and August will often exceed 35 degrees. How do producers maintain freshness and acidity in their wines, then? The secret is elevation and aspect; the best climats (vineyard sites) at planted at higher altitudes, with a south-facing aspect. This facilitates exposure to the morning sunlight while avoiding the harsher UV rays of the afternoon. Winegrowers are also careful to select the coldest soils in the region – late Jurassic limestone that is both porous and permeable. Warmer alluvial soils dominate lower-lying vineyards, producing wines with less acidity and weight. Mirroring the situation in the northern Rhône, the authorities have never undertaken a hierarchical classification of the best soils and sites found south of Montelimar. Nevertheless, there is an unofficial list of top-performing climats in every appellation. Beaumes-de-Venise is no exception.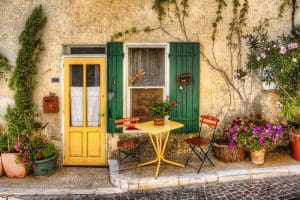 Visiting
Explore the Rhône valley region with Cellar Tours on a Luxury Food & Wine Vacation. You will dine in the best local restaurants and enjoy VIP tastings at the top wineries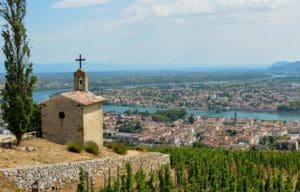 Wine Style
Beaumes-de-Venise offers two very distinct styles of wine. The sweet Muscat (promoted under a separate appellation) has been made since the 1300s, an aromatic blend of Muscat Blanc a Petit Grains, and Muscat Noir. Like Port and Madeira, the grape spirit is added during fermentation, halting the yeast from turning all the sugar in the must into alcohol. As a result, only very ripe bunches are picked in the late autumn, while the appellation rules insist upon a minimum sugar level of 252 grams per liter in the juice. Sold with a minimum abv of 15%, the wines can rival Sauternes in complexity and longevity. Older bottles, in particular, are dazzling, infused with aromas of acacia honey, stone fruit, and quince.
Stylistically, the reds borrow from Châteauneuf-du-Pape and Gigondas: a good example has the former's concentration and the latter's freshness and poise. Grenache must contribute at least 50% of the final blend according to the appellation framework, with Syrah potentially finalizing the cuvée. However, Rhône grape varieties like Cinsault and Terret Noir can also be incorporated, providing they do not exceed 25%. Mono-varietal styles are rare in the region, as growers prefer to blend for complexity.
Today, Beaumes-de-Venise can bring exceptional value to your table. The appellation lacks the global renown of its neighbors, which has kept prices very reasonable. But the wines can soar – imagine a magnificently complex and velvety example of Grenache, complemented by Syrah's grip and acidity. The wines are typically fruit-forward, with red berries, white pepper, and garrigue aromas. With age, you can expect leather, tobacco, and gamey notes on the palate. The ultimate pairing? Try a Beaumes-de-Venise red with slow-cooked Provençal lamb shoulder. It is simply divine.