Profile of Clos de l'Obac
Although the official name of the winery is Costers del Siurana, it is principally known by its famed Priorat wine brand, Clos de l'Obac. Clos de l'Obac is a powerful red wine, made with a blend of five grape varieties and grapes from fifty-year-old Garnacha and Cariñena vines. This leading winery is located in the pretty wine village of Gratallops, right next to Rene Barbier's Clos Mogador. The visionary Carles Pastrana runs Clos de l'Obac. Carles Pastrana is passionate about his wines, and he is one of Spain's most charming wine personalities. Carles is credited with being one of the first in the region, along with Alvaro Palacios, Rene Barbier, and Josep Lluis Perez, to realize the enormous potential of Priorat as a wine region. This was in the 1980s. However, Carles Pastrana's family was already in the region in the '70s, discovering old vines and doing experimental viticulture.
"Recognizing an unusual combination of topography, soil and climate, a unique "terroir," and one thousand-year-old wine-making tradition, the founding families started a project to re-awaken the spirit of the old Carthusian oenologists, by rebuilding the steep, slatey terraces and replanting the vines. The old vineyard slopes were surveyed, the walls were repaired, the stones were cleared by hand, and access paths were built. We resuscitated the old Garnacha, Tempranillo, and Cariñena vines, especially the latter, some of which were over fifty years old. We introduced the Cabernet Sauvignon, the Merlot, and the Syrah. The first vintage of Clos de l'Obac was that of 1989. Miserere was born in 1990 and Dolç de l'Obac in 1991. Since then, wine professionals from all over the world have recognized the greatness of this family of Priorat wines. We shall continue to strive to produce the finest wines from our land; we use only our own grapes. We aim to go on improving our products, to achieve the complexity, the balance, the harmony, the grace which define them and which have earned such international fame for the wines of COSTERS DEL SIURANA- Carles Pastrana."
The vineyards of Clos de l'Obac and the other brands, Miserere, Kyrie, and the elixir sweet red Dolç de l'Obac, are spread out over various parcels. The beautiful Mas d'En Bruno estate, one of the biggest parcels, boasts a 13th-century villa surrounded by land that has had working vineyards for literally hundreds of years. The Pastrana Jarque family is currently restoring the Mas (Catalan word for a big country estate, mansion, or villa). The winery in Gratallops is tiny, spotlessly clean, and has a lovely tasting room.
.
Wines produced
Miserere

Dry Red. Blend of 27% Garnacha, 10% Cariñena, 27% Cabernet Sauvignon, 27% Tempranillo and 10% Syrah, made with vines from the 80ha estate of "El Mas d'en Bruno", 14.5% alc. Extensive aging in French oak.

Clos de l'Obac

Dry Red. Blend of 35% Garnacha, 35% Cabernet Sauvignon, 10% Syrah, 10% Merlot and 10% Cariñena. Made with vines from the following estates: Planassos, Les Comes, Vinya Gran, La Vaca, Guinarderes, el Camí de Lloà, la Capella and el Bellvís. 12 months in new French oak.

Dolç de l'Obac

Sweet Red. Blend of Garnacha tinta, Cabernet Sauvignon, Syrah. Made with grapes from an exclusive 1 hectare vineyard "El Camp dels Espills", a small property located at the bottom of the "Barranc de l'Abadia" valley. The unique microclimate allows the grapes to become fully ripe without any danger of botrytis. The fermentation and a long maceration both take place in new, French oak. 16% alc.

Kyrie

Dry White. Blend of 35% Garnacha blanca, 35% Macabeo, 30% Xarel.lo and 5% Moscatel de Alexandría. This exquisite wine is cask fermented and aged for 6 months in new French oak. 14% alc. White wine to lay down. As only 3.500 bottles are made, this wine is definitely for collectors. Anecdote: The name "Kyrie" is old Greek for "God".
Winery details
Manyetes s/n
43737 Gratallops
Tarragona
Tel +34 977 83 92 76
Fax +34 977 83 93 71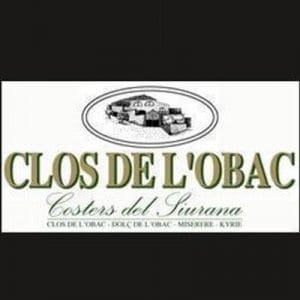 Appellation

Priorat

Founded

1987

Area under vine

1,500 ha, 50 ha own estate vineyards

Age of vines

10-100 year old vines, "En Vaso" and "Cordon Royat" pruning methods

Oak barrel origin

French
Winemaker

Isidre Sanahujes and Joan Jarque

Owner

Pastrana & Jarque

Grape varietals

Garnacha Tinta (Grenache Noir), Cabernet Sauvignon, Cariñena (Carignan), Ull de Llebre (Tempranillo), Syrah, Merlot, Garnacha Blanca (Grenache Blanc), Cartuxá , Macabeo, Xarel.lo, Moscatel de Alexandría