René Barbier, along with Carles Pastrana of Clos de l' Obac, Alvaro Palacios (Rioja native, famed for L'Ermita in Priorat), and José Lluis Perez (Clos Martinet, and father of Sarah Perez) are one of the founding fathers of this relatively recently "rediscovered" wine region, Priorat. Clos Mogador is named after the single vineyard that René Barbier started to cultivate in the 1970s in the now-famous wine village of Gratallops. Clos Mogador's wines have become as famous as other mythical wines of the world, such as Italy's Sassicaia and Bordeaux's Château Margaux. It has reached cult status (and prices) as "un Grande Vino" on the world's stage.
One of the most interesting aspects of winemaking at Clos Mogador is that René presses the grape using an olive press, which has the effect of only extracting half of the amount of juice that a typical wine press would, making the wine 50% more concentrated. Considering that Priorat wines are already highly concentrated and that "normal" yields are absolutely microscopic (especially compared to other Spanish wine regions such as La Rioja), Clos Mogador's wines are nearly elixirs. Robert Parker, the influential wine critic, was one of the first international critics to praise the wines of this stunning winery. Nowadays, Clos Mogador has more friendly competition from other up and coming Priorat wineries. However, it still stands at the top of the Prestige Pyramid (L'Ermita, Clos de l'Obac, and Clos Erasmus).
When you visit the tiny but beautiful Wine Region of Priorat, it is easy to forget how famous the wines and winemakers are. You can easily bump into René Barbier or Carles Pastrana at restaurants, wine shops, or any of the 6 or so main wine villages. For the wine tourist, this can be rather exciting! The region is virtually untouched by foreign visitors; many Catalan and Spanish people can't quite place it on the map. Too bad for them, as you will adore this beautiful region, full of mountains, wildflowers, vineyards, gourmet restaurants, and medieval villages.
Wines produced
Clos Mogador

Dry Red. Aged. This is the flagship wine of the estate. 35% Garnacha, 35% Cabernet Sauvignon, 20% Syrah, 10% Cariñena. Ageing in French oak. Unbelievably concentrated wine. 14% alc.

Clos Manyetes

Dry Red. Aged. Second wine. 70% Cariñena, 20% Garnacha, 5% Cabernet Sauvignon, 5% Syrah. 14 months in French oak. 14% alc.

Clos Nelin Joven

Dry White. Made with 50% Garnacha Blanca, 30% Viognier, and very interestingly, 20% Pinot Noir. 14% alc.
Winery details
Cami Manyetes s/n
4737 Gratallops
Tarragona
Tel +34 977 83 91 71
Fax +34 977 83 94 26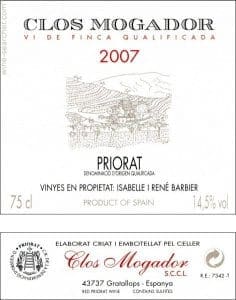 Appellation

Priorat

Founded

1987

Area under vine

22 ha

Age of vines

5 years-50 years

Oak barrel origin

French
Winemaker

René Barbier and Fernando Zamora

Owner

sabel and René Barbier

Grape varietals

Garnacha Tinta, Cabernet Sauvignon, Syrah, Cariñena, Viognier, Pinot Noir