Profile of Castello Terriccio
A vast self-sufficient estate that supported 600 people during its heyday in the 19th century, the exclusive Castello Terriccio Winery extends over 1700 hectares in the northern Tuscan coastal Maremma 60km from the storied city of Pisa. Yes, this is a prestigious winery whose coveted reds and vibrant whites are acclaimed in top wine circles. Still, it is also a wondrous natural paradise, with fertile fields of wheat, eerily beautiful olive groves with a total of 12,000 trees, a horse-breeding farm, and forestland that's home to wild hare, boar, hare, partridge, hawk, pheasants, and deer. One of Tuscany's largest estates, with breathtaking views of the ocean and the islands Elba, Corsica, Capraia, and Gorgona, Castello Terriccio is a fascinating place to visit on an exclusive food and wine tour.
The estate traces its roots back to the Etruscan era when its strategic seaside location proved to be an ideal place to keep watch for pirates heading toward the coast. The ruins of the Terriccio castle, still visible, date to this era. However, the estate's real history begins in the 13th century, when the Pope acquired it on behalf of the noble Gaetani family, who controlled it for 500 years, creating a successful farm and building the farmhouses and cellar that still stand today. In the late 1700s, the Gaetani's sold the estate to a Polish prince, who sold it to the family of the present owner (Dr. Gian Annibale Rossi di Medelana Serafini Ferri) in 1921. In 1979, Serafini Ferri suffered a serious horseback riding accident that left him in a wheelchair, and he began to focus on the estate's potential as a winery. High-quality winemaking began in the late 1980s and early 1990s when varieties like Sangiovese, Cabernet Sauvignon, Merlot, Chardonnay, and Sauvignon Blanc were planted with great success.
The dense, powerful reds and tantalizing whites made here have found favor in the international wine community and are praised for being pure reflections of their terroir. They are often described with words like "superlative," "tremendous," "splendid," and "luscious." Castello Terriccio's most iconic wine is the renowned super Tuscan Lupicaia, grown in limestone soil in an area once known as the wolves' favorite hunting ground. This Cabernet Sauvignon blend melds lusciously rich fruit with spicy balsamic notes. Also wonderful is the Castello del Terriccio, complex wine with a striking ruby tone, herb-like aromas that blend with spicy notes of licorice and cinnamon, and great depth. The estate's white wines are known for being unabashedly expressive, clean creations. Harvest for all wines is done by hand across the estate's 50 hectares of vineyards. Yields are kept low (no more than 900g per vine) to ensure concentrated fruit and better-structured wines. With Cellar Tours, on a Maremma Wine Tour, you can visit this extraordinary winery and taste its fabulous wines.
Wines produced
Rondinaia

100% Chardonnay; stainless steel; 13% alcohol.

Tassinaia

33% Sangiovese, 33% Cabernet Sauvignon, 33% Merlot; aged 14 months in French barrique; 14% alcohol.

Con Vento

100% Sauvignon Blanc; stainless steel; 13% alcohol.

Capannino

100% Sangiovese; stainless steel; 13% alcohol.

Castello del Terriccio

50% Syrah, 25% Petit Verdot, 25% other varieties; aged 18 months in French barrique; 14% alcohol.

Lupicaia

85% Cabernet Sauvignon, 10% Merlot, 5% Petit Verdot, aged 18 months in French barrique; 14% alcohol.
Winery details
Località Terriccio
56040 - Castellina Marittima (PI)
Italy
Tel +39 050 699709
Fax +39 050 699789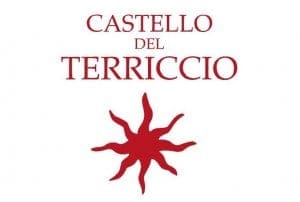 Appellation

I.G.T. Toscana (Indicazione Geografica Tipica Toscana)

Founded

1990s

Area under vine

60 hectares

Age of vines

8-15 years old

Oak barrel origin

French oak barrels from Allier, France are used for the three top red wines: Lupicaia, Castello del Terriccio and Tassinaia
Winemaker

Carlo Ferrini (red wines) and Giovanni Passoni (cellar master and winemaker of the white wines)

Owner

Dr. Gian Annibale Rossi di Medelana Serafini Ferri

Grape varietals

Chardonnay, Sauvignon Blanc, Viognier, Sangiovese, Cabernet Sauvignon, Merlot, Petit Verdot, Mourvèdre, Syrah, Tannat