Profile of Chateau Mouton-Rothschild
Opulent, luxurious, exotic, powerful – the list of adjectives used to describe Mouton-Rothschild are rarely imbued with subtlety. Yet there is no chicanery or exaggeration in claiming that this property is the most spectacularly opulent of all the Pauillac First-Growths. Critics are unanimous: tasted blind, Mouton-Rothschild often wears the guise of a Napa Cabernet, with powerful and exotic aromas of chocolate, coffee, damson, cigar box, and cedarwood. If collectors and Bordeaux aficionados desperately seek voluptuousness, toastiness, a healthy exoticism, and silky tannins, then Mouton should be their first choice.
However, despite its generous fruit profile and impressive weight, Mouton-Rothschild is quintessential Pauillac. The estate boasts a rich and colorful history – like the signature Grand Vin, Mouton-Rothschild has never hidden in obscurity or in the shadows. The name of the property derives from the French word 'motte,' which simply means mound, referring to the famous gravel croupes. History records that Joseph de Brane purchased the land in the early 18th century; by the end of that century, the wine was fetching prices equivalent to the best Second Growths. The Brane family decided to sell Mouton in 1830, and a Parisian banker called Isaac Thuret purchased the estate. Unfortunately, Thuret did little to improve the reputation of Mouton and decided to dispose of the vineyards in 1853.
Yet his decision was ultimately to prove to be the catalyst for Mouton's glorious salvation. The purchaser of the property was Baron Nathaniel de Rothschild, from the English branch of the banking dynasty. Mouton is still owned by the same family today, who have invested over 150 years of time, energy, and money into this sacred vineyard. Nathaniel's successor, Baron Philippe, was an enthusiastic and much-loved promoter of the wine, even during the Second World War! After the conflict broke out, Mouton was occupied by the Nazis, and the baron was imprisoned, although he managed to escape to Britain. Tragically, his wife Elizabeth died in a German concentration camp in 1945. Ironically, some excellent vintages were made during the war, including the legendary 1945 Mouton-Rothschild.
After the war ended, Philippe returned to his rightful place in Bordeaux. His contribution to Mouton's reputation and global success cannot be underestimated; the winery was arguably Bordeaux's first major tourist destination, as the baron created a lovely museum of wine artifacts and opened the estate to guided tours. In the 1970s, he demonstrated his business savvy and willingness to invest abroad when he partnered with Robert Mondavi to produce Opus One in Napa Valley. Sadly he died in 1988, but his daughter Philippine was more than capable of continuing his great work. Quite apart from expanding and updating both the facilities and wine museum, the inimitable Philippine created a Mouton white called Aile d'Argent in 1991, an exotic blend of Sauvignon Blanc, Sémillon, and Muscadelle. Moreover, in 1993 Mouton took a brave step and started producing a second wine called Le Petit Mouton; for many years, former winemaker Philippe Cottin was unpersuaded by the case for second wines. Yet today, it remains as popular as the Grand Vin. Philippine was succeeded by her son, Philippe Sereys de Rothschild, who continues to work with his sister and brother in maintaining the impeccably high standards established by the legendary Philippe.
But most importantly, this remarkable family was determined to prove that Mouton-Rothschild was a First Growth in everything but official classification. Baron Philippe achieved what no other owner had ever done – he petitioned the French authorities to reclassify Mouton-Rothschild as a First-Growth. In 1855, the estate was classified as a Second-Growth, hardly a lackluster ranking, but nevertheless, it rankled with the baron. He doggedly pursued his campaign for promotion, which was no easy task considering the intransigence of the French bureaucracy. However, his perseverance finally paid off in 1973. Jacques Chirac, then minister of agriculture, signed a decree elevating Mouton to the ranks of Premier Cru. The response of the baron has echoed through history: "Premier je suis. Second je fus. Mouton ne change." Or, in other words – "First I am. Second I was. Mouton will not change."
Indeed, despite the investment in modern equipment, new ideas, and ever-more sophisticated viticultural techniques, Mouton-Rothschild has a timeless quality. It remains a hallmark of superior terroir merged with First-Growth winemaking, resulting in a powerful, opulent, and utterly beguiling wine. Mouton owes much to its Grand Plateau, which lies to the west of the winery. This magnificent gravel terroir contributes so much to the signature wine style. Deep and expansive, it lies above iron-rich soils and clay, marl, and limestone subsoil. This hallowed ground, combined with precise and sophisticated winemaking, produces a wine like no other. Rich with the scent of ripe Cabernet Sauvignon, Mouton-Rothschild has the structure to last a lifetime. There are occasionally detractors, younger critics who may deride what they perceive to be an excess of richness and a lack of subtlety – yet this is the true beauty of Pauillac's superstar First Growth. It inspires debate, excitement, differences of opinion, and passionate arguments, but never indifference or apathy. Mouton-Rothschild is a luxurious brand with intellect and authenticity to match.
Wines produced
Chateau Mouton-Rothschild (Grand Vin)

(Vintage dependant) but typical blend: 80% Cabernet Sauvignon, 9 % Merlot, 9% Cabernet Franc, 2% Petit Verdot. After careful hand-harvesting, the must is fermented in wooden vats. Indigenous yeasts are used whenever possible. After malolactic fermentation, the wine is usually aged in 95-100% new oak for 18 months.

Le Petit Mouton (Second wine of the property)

(Vintage dependant) but typical blend: 70-80% Cabernet Sauvignon, 20-30% Merlot, 5-10% Cabernet Franc. After careful hand-harvesting, the must is fermented in wooden vats. Indigenous yeasts are used whenever possible. After malolactic fermentation, the wine is usually aged in oak barrels for 16-18 months.

Aile d'Argent (white wine)

(Vintage dependant) but typical blend: 50% Semillon, 48% Sauvignon Blanc, 2% Muscadelle. The wine is fermented in stainless steel tanks, but not all the wine undergoes malolactic fermentation, to preserve acidity. The wine is aged in a varying percentage of new French oak before bottling.
Winery details
Chateau Mouton-Rothschild
33250 Pauillac
Bordeaux, France
Tel +33 (0) 5 56 73 21 29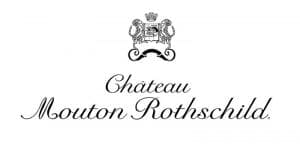 Appellation

AOC Pauillac / First Growth

Founded

1720

Area under vine

83 hectares

Oak barrel origin

French
Winemaker

Philippe Dhalluin

Owner

Rothschild family

Production

320,000 bottles per annum

Grape varietals

Cabernet Sauvignon, Petit Verdot, Merlot, Cabernet Franc, Semillon, Sauvignon Blanc and Muscadelle