There is nowhere else in Argentina, or indeed South America, like the province of Salta. It is the smallest and northernmost of Argentina's wine-growing regions, producing just over 1% of the country's total output. Yet Salta is endlessly fascinating, not least because it is home to the world's highest vineyards. It is in these totally unique conditions that pioneers Raul Davalos and Donald Hess sought out splendid isolation to produce Colome mountain wine in the Valle de Calchaquies. Those who really want to get away from it all must head to Salta.
Orientation
For the flight to Buenos Aires is just the beginning. It is at least four hours drive north to the town of Cafayate and the Calchaqui Valley, which today is the main wine region of Salta. A harsh, arid landscape dotted with giant cacti eventually gives way to spectacular mountain scenery and rows of vineyards. Today there are approximately 2000 hectares under vine, with investors increasingly helping to put little-known Salta on the international map, although the region has been in the wine-growing business for centuries. Historians believe that Jesuit missionaries first planted grape seeds from Peru in the 1550s in Salta, having failed with an earlier attempt near Buenos Aires.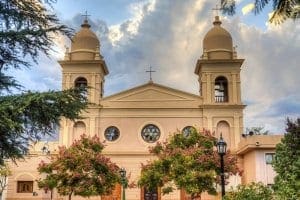 High-altitude Vineyards
They were lured to Salta by the unique terrain and topography that continues to attract investors today – incredibly high-altitude sites which are vital in tempering the ferocious heat of the region's summer season. Diurnal temperature variation, important throughout Argentina, reaches its apogee in this part of South America – in the Calchaqui Valley it can easily swing from 38°C (100°F) at noon to a cool 12°C (54°F) around midnight, while during the short winter it can plunge as low as –6°C (21°F) at night. Vineyards climb as high as 1700 meters, many hundreds of meters higher than the Côte de Nuits, to cite one example. The region's most famous piece of high-altitude terroir is located on the Colome property. Situated at just over 3100 meters, the El Arenal vineyard really is on top of the world.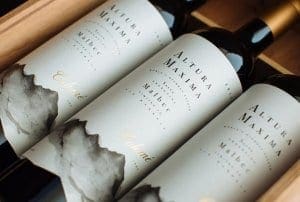 White Torrontes & more
Traditionally, Salta's renown has rested on its fine reputation for aromatic white Torrontes, which seems to really thrive in the holiday country of Cafayete, at rather lower altitudes than El Arenal. San Pedro de Yacohuya is another rising star in Argentine viticulture, proving that vine age and low yields are the key to red wine quality here. By using judicious site selection and high altitude to its best advantage, producers are extracting incredible color and concentration from varieties such as Malbec, Syrah, and Tannat – a little-known grape, originally from South-West France. The best of this exciting firmament offer an enticing mix of purity of fruit, concentration, and elegance, where the sometimes weighty alcohol and tannin levels are tempered by an invigorating natural acidity. It is no exaggeration to say that Salta's winemakers have made impressive strides in wine quality over the past 15 years – if this continues, then this corner of Argentina will surely eventually be as celebrated, and world-renowned, like Mendoza.