The majestic sweep of vines around France's eastern Mediterranean coastline has only relatively recently joined the ranks of Europe's premier wine regions. For many years Provence was misrepresented as a "one-trick pony," a source of a seemingly inexhaustible supply of cheap and cheerful rose. The red and white wines were derided – often justifiably – as 'vin ordinaire,' the produce of overcropped vines planted on poor terroirs that were lazily cultivated. But today, there is no shortage of evidence of the quality of wine that can be coaxed from Provence's numerous appellations.
As exhibit A, allow us to present Coteaux Varois wine region. In select sites found in the more propitious sub-zones (generally on higher ground and on more deficient soils), excellent wines with real, local character, a signature scent, and age-worthy structure are increasingly being made. The appellation is a relatively new face in Provence's rich tapestry; Coteaux Varois was introduced in 1993 as a high-tier complement to the Cotes de Provence designation created in 1977. It is one of the most distinctive terroirs in Provence. Situated to the west of the significant swathe of vineyards that make up the bulk of Cotes de Provence, Coteaux Varois is the envy of lesser appellations across the region. Over 26 communes north of the city of Toulon are part of the zone, constituting a third of the Var administrative department. There are over 20,000 hectares under vine, producing approximately 17 million bottles per annum. Wineries are generally smaller, family-owned operations in addition to some respected cooperatives. The quality of output across the zone is remarkably high, with few poor producers and wines.
Visiting
Explore Varois Wine Region with Cellar Tours on a Private Luxury Tour of Provence Wine Region. Enjoy VIP private tastings at top chateaux and dine of delicious Provençal cuisine.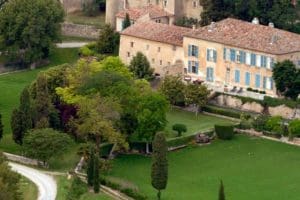 But what is the secret to Coteaux Varois' success?
Growers will point to two things: the calcareous soils and the Massif de Saint-Beaume and Massif des Maures' sheltering influences. Sedimentary clay/limestone is found in abundance across the appellation, which provides soils with good porosity and permeability, allowing vines to thrive in inclement and drier seasons. Calcareous soils are world-renowned for producing structured wines with good color and depth of flavor – Coteaux Varois is no exception.
But more important is the moderating influences of the mountain ranges Saint-Beaume and des Maures. Overall, Provence is the Mediterranean dream personified: long, dry summers and mild winters. However, Coteaux Varois is a generally cooler enclave compared to regions closer to the coast, enjoying a Continental climate with hot summers, mild springs, and cold winters. Yet, there are further complexities; the Massif de la Ste-Baume's maritime influence creates cooler growing conditions than one would expect during the summer. Higher altitude sites mean fresher wines, slower ripening, greater diurnal temperature variation, and more balanced, elegant vintages. Indeed, growers make full use of their superior terroir – some vineyards in the wooded hills north of Brignoles may not be picked until late fall. This is generally unheard of in Provence; typically, the harvest will start in September or even late August.
Perhaps the best evidence of the potential of Coteaux Varois for fine wine production comes from the level of investment in the wider region. The zone has attracted winemakers' attention from across Europe over the past two decades, including Burgundy magnet Louis Latour. A stalwart of excellent Pinot Noir, the negociant decided to plant that famous grape on sites near the commune of Aups, located further north of the Coteaux Varois boundaries. To coax such finesse and elegance out of Pinot Noir grown in Provence is a testament to how far this beautiful region has come.
Roses are among the best in Provence
Meanwhile, growers across the appellation continue to make an exciting and eclectic range of wines. Of course, rose is a mainstay of production – approximately 90% -but many fine Provencal reds and whites join it. Having been ruled by successive waves of invaders from all corners of Europe, Coteaux Varois boasts a fine palate of grape varieties, some of them such as Tibouren and Calitor, unheard of elsewhere. Cabernet Sauvignon thrives in this terroir, as does Syrah, Grenache, Mourvedre, and Cinsault. Yet growers are increasingly distancing themselves from the Carignan grape planted in Provence to supply cheap, light reds for early drinking. The roses are among the best in Provence – lightly colored and intriguingly scented; the classic formulae is to blend 3-5 varieties to the exact specifications of each winemaker. The whites, although small in number, are also worthy of excitement. Flabby, unbalanced examples are being replaced with racy wines containing any number of grapes, including Clairette, Ugni Blanc, Semillon, Vermentino, and Grenache Blanc.
However, the powerful yet balanced red blends are now eliciting the most interest from sommeliers and wine buyers. Coteaux Varois, whose wines are currently in an exciting state of flux, is much more than (unbaptized) consumers give it credit. There is real finesse inherent to these wines, a potent combination of Provencal fruit and charm merged with the structure and refinement one would expect from a good Bordeaux. The region has proved to play a steady hand in a competitive global wine market, producing serious, terroir-driven essences of southern France with class and distinction.