If you're looking for a window on the Italian soul, head to Tuscany. Words cannot do this magical destination true justice, but we'll try; this is Italy with the stereotypes: gently rolling hills dipped in morning mist and sculptured cypress alleys. Golden wheat fields, silver olive groves and pea-green vineyards marching in terraced rows on hillsides. It is a destination that never gets boring – Tuscany nourishes the body and soul. Indifference isn't simply unlikely, it's impossible.
But then, this region in central Italy has more to offer than idyllic landscapes. Far more, in fact. Soul-soaring medieval hilltop villages merit a days exploration, whereas Tuscany's twin urban gems – Florence and Siena – demand a lifetime. Ever since the Etruscans dropped by to party and stayed, Tuscany has seduced everyone. Florence's historic churches and monuments were a key stop for British aristocrats on the Grand Tour in the 19th century – and remain so. Florence's Duomo isn't just the most spectacular structure in Florence – it's up there with Rome's Colosseum and Pisa's Leaning Tower as one of Italy's most recognizable icons. So too is the Piazza del Campo, Siena's magnificent, perfectly paved central piazza. The city's geographical and historical heart has been staked out since the 12th century. And then there's the art. And oh, what art! Few galleries invoke such an overwhelming sense of awe and wonderment as the world-class Uffizi, at home in a 16th century Medici Palazzo in Florence. Vast, labyrinthine, architecturally magnificent and rich in history, the building alone stuns. You may have also heard a few good things about Tuscan food and wine? For once, the gossips were right. The ancient wine regions of Chianti and Montalcino is the Tuscany of postcards, where cypress alleys give way to oceans of vineyards, set against an awe-inspiring backdrop of rolling hills and secluded Renaissance villas built for Florentine and Sienese nobility. Sangiovese is grown to absolute, stunning perfection in this part of the world. For Tuscans, eating and drinking is a fine art to rival their masterpiece surroundings. With its lyrical landscapes, world-class art and culinary contadina (farmer's kitchen), the Tuscan experience is in perfect harmony with the land.
"To cook like your mother is good, but to cook like your grandmother is better," says the Tuscan proverb. And indeed, Tuscany's world-renowned food culture places great emphasis on age-old recipes that are passed from generation to generation. Yet dining in Tuscany covers the whole gamut, from street food to chic farm tables and posh-frock gastronomic temples. Nevertheless, even budding young chefs remain faithful to the region's humble roots, using fresh produce and eschewing fussy executions. Today, the icon of Tuscan cuisine remains Florence's bistecca alla fiorentina, a char-grilled T-bone steak rubbed with olive oil, seared on the chargrill, seasoned, and served al sangue (blue and bloody). Traditionally it is butchered from creamy Chianina cows, one of the oldest breeds of cattle, originating from the wide green Val de Chiana in eastern Tuscany. Spicy green olives, extra-virgin olive oil, full-bodied red wines, smoky porcini mushrooms and bags of beans are the cohabiting culinary trademarks across the Tuscan board, but a deeper exploration yields even more gastronomic wonders.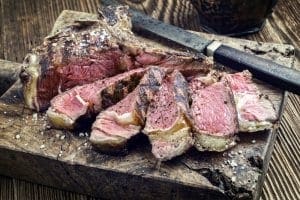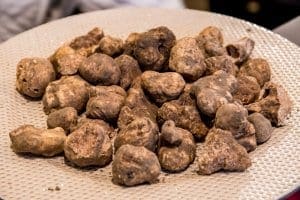 In Castelnuovo di Garfagnana in Northwestern Tuscany, fresh mushrooms and chestnuts set the tone; sweet castagnaccio (chestnut cake) is to locals in Garfagnana what buccellato (a sugared bread loaf studded with sultanas and aniseed) is to those in Lucca. Meanwhile, the port of Livorno is the place to feast on superb seafood, while Bolgheri's superlative wines beg to be matched with cinghiale (wild boar). Cheese aficionados should make a beeline for Pienza, where some of Italy's finest pecorino is crafted, while the Val di Chiana is where sheep cheese is wrapped in fern fronds to become ravaggiolo. And then there are the truffles. No single food product is lusted over as much as Tuscan white truffles, all heady perfume, and exquisite texture. It is found in the dew-kissed autumn forests around San Miniato and eaten with gusto during truffle season (mid-October to December). In Italy, few regions, if any, can compete with Tuscany – traveling across this hauntingly beautiful landscape is a memorable banquet of gastronomic and viticultural experiences.
The best olive oil in Italy comes from Tuscany, mainly from the beautiful town Lucca, also famous for lingerie and shoes. Olive oils are flavored with Bay leaves, Chilli (Peperoncini), and Fennel typically and doused on virtually everything. "Bruschetta" is a typical Antipasti, crusty bread topped with olive oil, roast garlic, and roast tomatoes, topped with fresh basil. Crostini, slivers of bread covered in chicken liver, are also popular.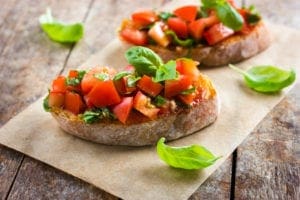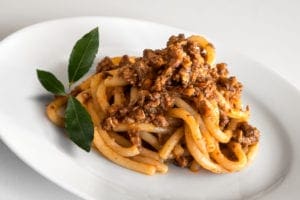 The most typical pasta dish served as a "Primo" in Tuscany must be the Pappardelle a la Lepre (pappardelle pasta cooked with hare). Sauces usually are meat-based and can include "Coniglio" (rabbit) or "Anatra" (duck) along with spinach and mushrooms (fungi) accompanying them. Wild boar sausage is another typical product of the area ("Prosciutto di Cinghiale"). "Ribollita" is a classic Tuscan soup- thick, rustic, made with beans and cabbage, and perfect with a bottle of young Chianti Classico.
Our favorite restaurants in wine country
Cellar Tours Selection of Top Tuscan Vineyards & Wineries
Wine has been a part of the Tuscan civilization for over 3,000 years. From the time the ancient Etruscans settled in the gently rolling hills of Tuscany, viticulture and wine production have been an essential element of everyday life and indeed was even considered to be mystical. Like the ancient Greeks, the vine and the olive tree were fundamental to the Etruscan diet and considered sacred plants with lifesaving properties. In this day and age, when doctors are continually uncovering more proof of the health benefits of wine and Olive Oil, the great irony is that the Etruscan's realized this a few thousand years ago!
Sub Wine Regions of Tuscany
Luxury Private Wine Tours in Tuscany

Bolgheri Wine Tours
Luxurious wine tour in the Bolgheri DOC appellation with visits to two top garage estates such as Grattamaco and the mythical Le Macchiole.

Montepulciano Wine Tours
This Wine Tour of Montepulciano is designed as a luxury day excursion includes VIP winery visits and sightseeing in Montepulciano and Monticchiello
Florence
Florence is one of the most picture-perfect towns globally, and engaging for wine lovers to know, has been making wine commercially since 200BC! Birthplace of Dante and Michelangelo and cradle of the Renaissance, Florence is almost overwhelming for art and architecture lovers. Like many Tuscan towns, Florence has Etruscan and Roman roots. From early on in the city's foundation, trade and commerce thrived as Florence was well located on the road to Pisa (a major port), on the way to Rome, and also on a navigable river (the Arno). Outside Florence, in the hamlet of Fiesole, there are beautiful Roman ruins, including an amphitheater, and there is a museum of Etruscan art.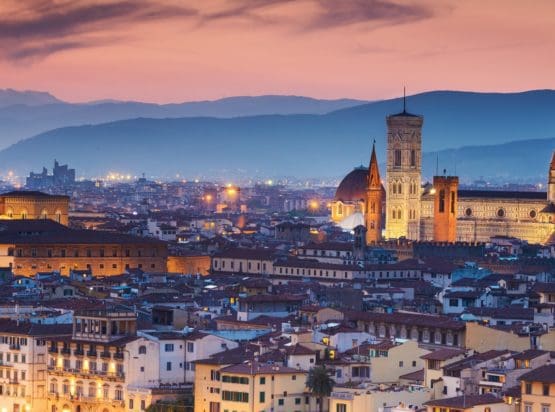 Local Events & Festivals

White Truffle Exhibition in San Miniato
The white truffles found in the hills surrounding the Tuscan town of San Miniato are honored each year, on the last weekends of November. The festival attracts people from all over the world and is a must for dedicated gourmands. The streets and squares of this medieval town become one of Italy's largest open-air markets, celebrating this much sought after fungus. Coinciding with the truffle harvesting season, many of the freshly picked truffles exchange hands for 100's of euros per gram.
High Mountains, gentle hills, pristine shores; Tuscany's natural environments deliver irresistible activities. Indeed, the range of scenery and topography in Tuscany is astounding – cypresses and vineyard-lined rolling hills are just the beginning. The region is Italy's most famous, situated in central Italy and bordering several other regions, including Liguria, Umbria, Marche, and Emilia-Romagna. Roughly triangular in shape, coastal Tuscany is one of the less-visited gems; the Ligurian and the Tyrrhenian Sea provide an endless bounty of fresh seafood and have beaches to die for. The island of Elba, where Napoleon was exiled to, is the Tuscan paradise no one imagines. Meanwhile, hiking enthusiasts will love the fact that Tuscany is surrounded and crossed by major mountain chains – this is hill country, make no mistake. In the northwest of the region, you'll discover the Apuane Alps, which is a paradise for walkers. It's a cliché but also a hard fact; Tuscany has all the bases covered.
Weather
Climatically, Tuscany enjoys hot summers and mild winters; the climate is fairly mild in the coastal areas, while the interior is harsher and wetter, with severe fluctuations in temperature between winter and summer.
Average High/Low temperatures for Tuscany in Celisus/Fahrenheit
Overall, Tuscany is at its best in spring and autumn – lapping up all that sea and mountain air, heady with the scents of wild sage and pine, is an integral part of the Tuscan outdoor experience. May or June are ideal; expect typically warm, dry days, wildflowers and forest fruits in abundance. September and October, when the wine and olive harvests start, also have a particularly mellow appeal. We would avoid July and August, which can be overcrowded and stiflingly hot, and the Easter period, which sees too many people jostling for too little space.
Getting there
By plane

There are two main airports in Tuscany, in Pisa and in Florence with many connecting flights arriving from Rome, Milan and Europe. There is an excellent train shuttle called "Pisa Mover" that takes you from Pisa airport to Pisa Centrale train station, useful for connecting with other cities in Tuscany

By car

Car travel is very useful between the smaller villages and hamlets of Tuscany, but in the main "art cities" be aware that there is extensive pedestrianization in the historic centers ("ZTL", Limited Traffic Zone) so you will need to park in public parking areas in Florence and Siena.

By train

The train connections in Tuscany are very good and for those traveling without a car, this is the best way to move between the main cities. Florence Santa Maria Novella train station (Firenze SMN) has fast train connections with big Italian cities outside of Tuscany as well, like Milan, Rome, Venice, and Naples. There are also train stations in Pisa, Lucca, and Siena.
Hotels recommended by Cellar Tours
Shopping

Beautiful San Miniato is the most famous truffle town in Tuscany. This charming, historic village hosts an annual white truffle festival and is home to many specialized shops. One of our favorites is Tartufi Nacci, a hole in the wall gem stocked with everything a truffle lover could desire. Their luxurious offering includes truffle butter, honey with white truffle, truffled cheese, paste scented with truffle and of course- truffles themselves!

In the ancient town of Pitigliano, famous for its Jewish heritage (it is called "Little Jerusalem"), you will find this tiny little gourmet shop which also has a few casual tables for gourmet nibbles and vino in situ. Pick up different types of Pecorino cheese from Caseificio "DI MARIO" in Pienza and Caseificio "La Valle degli Ulivi" in Maremma; salami from Maremma, Prosciutto Toscano sottovuoto, wild boar sausage; local olive oils; hand made ceramics; gourmet pasta sauces; pasta, wine and so much more!
Useful Information
TUSCAN TIMETABLE FOR MEALS

Lunch hours in restaurants are earlier in the north of Italy, starting around 12:30 p.m. Average lunchtime is 1 pm. Dinner- few restaurants open before 8 p.m. and most diners head for their dinner around 8/9 p.m., later the further south you go. After dinner, most Italians have a "Passegiatta", a digestive walk. Italian squares are the center of city and neighborhood life and you will always find people congregating in the many piazzas, where you can usually get a coffee, ice cream or glass of wine.

CREDIT CARDS

We suggest that you bring a copy of all your credit card company's contact details (American Express, Visa, Mastercard) in case of credit card theft, blockage, etc. Notify your credit card companies that you will be traveling to Italy, so they do not block your card once you start making charges.

BUYING WINE IN TUSCANY

Shipping wine abroad and taking wine with you onboard the airplanes have both become increasingly more difficult over the last few years, with stricter airport rules and more paperwork and import restrictions. As such, we usually suggest that clients ask the wineries for the local distributor's details while visiting. Most of the wineries we work with sell their wine in the major markets (USA/ UK/etc) and we can tell you where to purchase the wines in your area. If you decide you do want to ship wine from Italy, the main shipping companies are UPS and DHL. If you would like to carry wine back, bring a small wine suitcase and be sure to pack and pad it with plenty of bubble wrap before checking it in.
Facts and figures
Capital

Florence

President

Enrico Rossi

Area

22985Km2

Population

3,749,430 (2010)

Main Rivers

Amo, Tiber, Serchio, Arboa, Pesa, Sieve, Magra, Limentra, Era, Tora, Bure, Chiana, Frigido

Main Beaches

Beaches Castiglione della Pescaia, Scarlino, Giglio Island, Marina di Grosseto, Magliano, Capalbio

Provinces

Arezzo, Metropolitan City of Florence, Grosseto, Livorno, Lucca, Massa and Carrara, Pisa, Pistoia, Pratio, Siena

Wine Facts

63,500 ha vineyards 41 DOC & 11 DOCG Red Grapes: Sangiovese, Cabernet Sauvigon, Merlot, Canaiolo Nero White Grapes: Trebbiano, Pinot Grigio, Moscato, Malvasia, Vernaccia

Universities

University of Florence, Unversity of Pisa, Unversity of Siena, Scuola Normale Superiore di Pisa, European University Institute (Fiesole), IMT School for Advanced Studies Lucca

Main industries

Tourism, Wine, Agri-Food, Fashion, Mining, textiles, Chemicals, Steel, Glass, Ceramics
If you would like us to customize an exclusive, luxury tour for you, get in touch with us and let us know your travel plans. We offer luxury food and wine tours for private groups of minimum 2 guests. All of our private, chauffeured tours are available year round upon request.
Contact us for your personalized quote!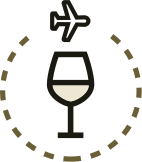 Cellar Tours
Cellar Tours is a Luxury Travel Specialist, operating since 2003 and offering exclusive Mercedes chauffeured Gourmet Vacations in Chile, France, Italy, Ireland, Portugal, South Africa, and Spain. We specialize in luxurious custom designed vacations, events and incentives related to food and wine. We are proud members of Slow Food, UNAV (Travel Agency Association in Spain), and the IACP (International Association of Culinary Professionals).